Project Details
Project name: Eton Range Realignment
Project type: Geogrid reinforced earth embankment
Location: Eton Range, Peak Downs Highway Realignment
Product: ACEGrid® geogrid reinforcement
Problem
In 2013, the Queensland Department of Transport and Main Roads (TMR) identified the need to improve safety along a section of the Peak Downs Highway near Mackay, which is the only B-double heavy truck access to the northern Bowen area and the main route  connecting Mackay to a number of inland mining and agricultural areas of Central Queensland.
With around 800 of the 4000 vehicles using the highway daily being heavy trucks, it was identified as an area requiring safety improvements to accommodate type 1 road trains, enable cars to overtake heavy trucks, reduce road closures due to traffic incidents or oversize loads, control approach speeds for both light and heavy vehicles, and increase the capacity and efficiencies for current and future traffic levels.
The main project was tendered and awarded to Fulton Hogan in late 2015 to realign and widen the existing 2-lane road with tight corners and a steep gradient to a 4-lane dual-carriageway, including addition of a split carriageway for part of the range and a partial realignment to reduce the grade from 11.5 percent to 7.5 percent.
The most critical part of this project involved the construction of a reinforced earth embankment to widen part of the existing range while keeping the road open to carry out the works, that is some 780 metres long and 45 metres tall at its highest point, making it the largest in the southern hemisphere.
Solution
The final solution selected was a series of geogrid soil reinforced embankments to achieve a relatively flat finished road level. However, with such complex terrain challenges, this $189.26 million project demanded many years of investigations and a series of detailed field trials to ensure the final products would perform as expected.
During 2014 and 2015, preliminary designs were completed by the project's Consulting Engineers at AECOM. Subsequent construction trials followed, and the ACEGrid® geogrid reinforced earth embankments were built utilising site won fill material, which was screened on-site to a suitable particle grading.
To verify the design assumptions, on-site full-scale field trials and tests were conducted to confirm the field performance and design values for ACEGrid® geogrid in this unique location.
Construction commenced using the selected reinforced fill grading and two grades of ACEGrid® geogrid (GG150 and GG200). The Earlier trial helped to establish a suitable construction methodology, enabling the final installation to progress without incident.
Global Synthetics is honored to have been involved in this landmark project from working closely with TMR, Roadtek and Fulton Hogan in the design and trial phase, right through the construction phase.
All in all, Global Synthetics supplied in excess of 500,000sqm of AceGrid® geogrid to the project, which provided reinforcement to 280,000m3 of road embankment construction, the largest geogrid reinforced slope in the southern hemisphere.
Eton Range fully opened to traffic on 1 October 2020.
For more information please contact Amir Shahkolahi at amir@globalsynthetics.com.au
Photos: Crt. to QLD TMR-Mackay and Fulton Hogan
Image/link items
Image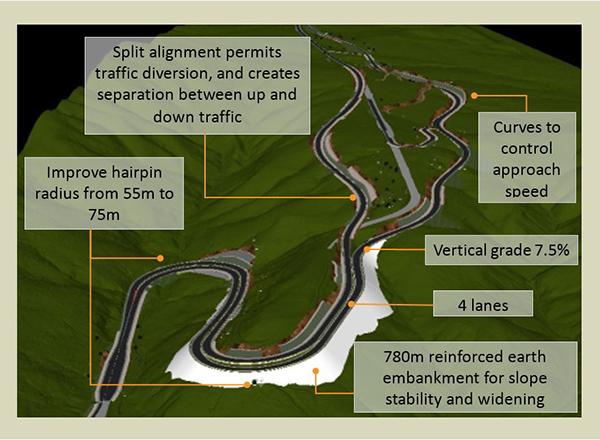 Image/link items
Image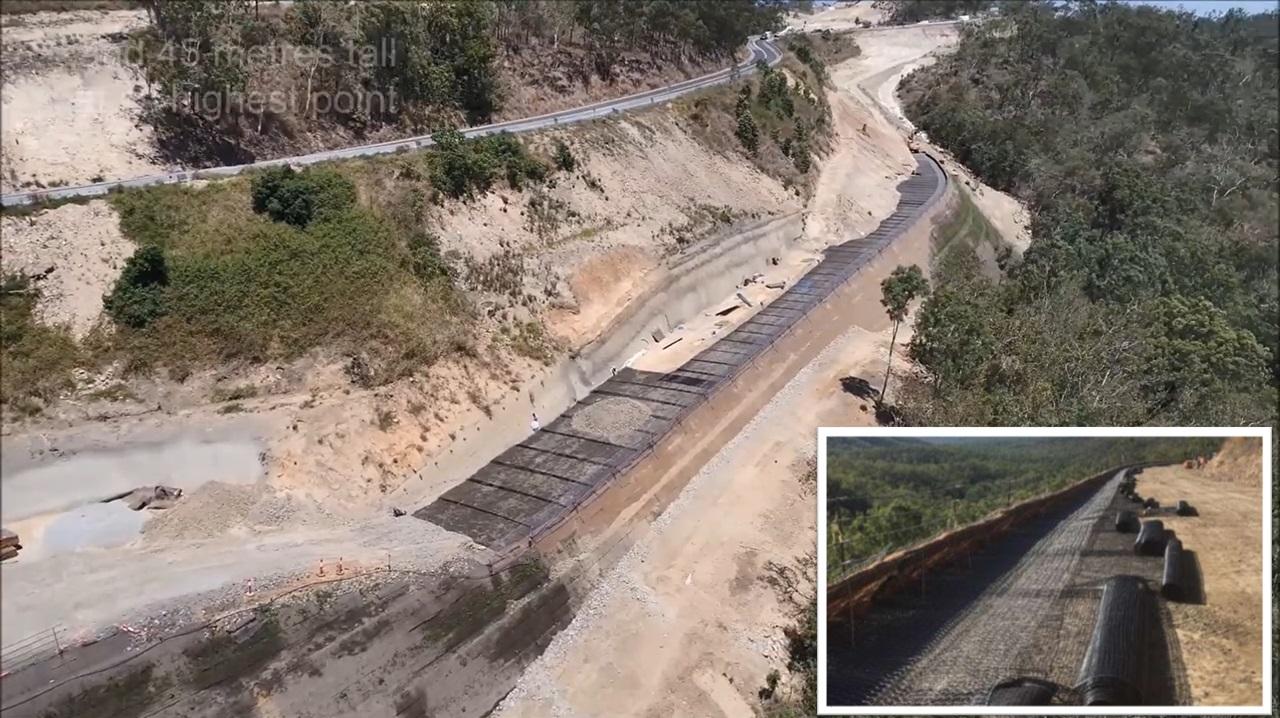 Image/link items
Image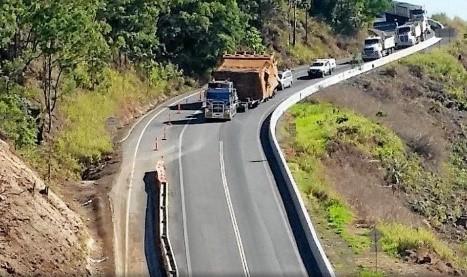 Image