6 Oct 2022, 3:30 - 4:30pm
Image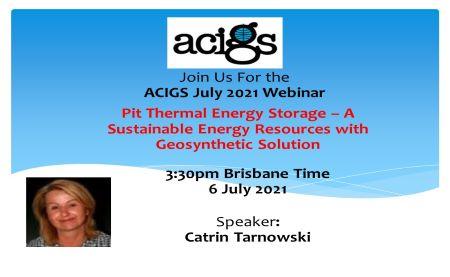 Add to Calendar
2022-10-06 15:30:00
Pit Thermal Energy Storage – A Sustainable Energy Resources with Geosynthetic Solution
Catrin Tarnowski will discuss Pit Thermal Energy Storage – A Sustainable Energy Resources with Geosynthetic Solution in this webinar
QLD
ACIGS
info@acigs.org
Australia/Melbourne
public
Catrin Tarnowski will discuss Pit Thermal Energy Storage – A Sustainable Energy Resources with Geosynthetic Solution  in this webinar
The development of pit thermal energy storage (PTES) began 30 years ago in Denmark, Sweden and Germany. The initial objective was to utilize heat-storage systems to increase the solar share of solar-thermal district heating to over 50%, thus reducing the costs of energy supply. Today, the objective is to establish a large and efficient seasonal or multifunctional energy storage system as economically as possible. These are then used to supply the entire residential areas or districts with green energy from a sustainable and renewable heat sources.
The PTES is a closed system containing water heated up to a high temperature – up to 95oC. It must be properly sealed with high-temperature resistant geomembranes and a geomembrane floating cover system. The importance of the sealing component does not only lie within the geomembrane, to achieve a high level operational efficiency of the PTES, other components include thermal insulation, gas venting and drainage system are equally important to control heat loss and water ingress, etc.
This webinar will focus on the geosynthetic solution and their contribution in PTES system. It details the design principles for the PTES, the essential requirements for the construction of the storage pits and the challenges during construction. Case studies demonstrating the successful application of innovative geosynthetic materials in achieving economic realization of PTES will also be presented.
About the presenter
Catrin Tarnowski is currently a Sr. Technical Manager of SOLMAX Group based out of Hamburg, Germany. Catrin has been involving in the geosynthetics business for more than 27 years, providing technical expertise to engineers, consultants, customers, testing laboratory and authorities. She has 12 years working experience in a third party inspection and testing office for geosynthetics in Waste landfill applications – responsible for testing and reporting, accreditation of the laboratory and site inspections, 15 years as Technical Manager in GSE Lining Technology for EMEA region and Global Product Manager for Barrier Products at SOLMAX.
Thankyou to our event sponsor